Ideal first race car, suitable for CSCC Tin Tops or MSVR Track day Trophy.
£5500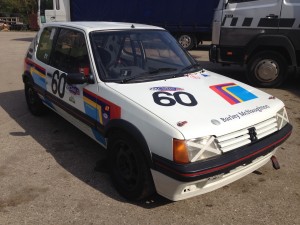 1990 GTi shell, however the engine and gearbox may be from different years and everything else has been replaced! 1900cc on twin 45 webers, Leda adjustable (height and damping) front coil overs, Gp A solid mounted rear beam with Leda adjustable dampers, Wilwood 4 pot front callipers, Rollcentre cage, Original PTS (Peugeot-Talbot Sport) negative camber front hubs, Magnex exhaust (quiet enough to pass track day noise tests) Gripper LSD, OMP seat (in date) TRS belts (in date) Rollcentre lap timer and pit wall beacon, polycarbonate side and rear windows, plumbed in extinguisher, six spare wheels, 2 with Yokohama 048r 'drys' (left and right hand side) and 4 with Yokohama A359 for use as 'wets', all the wheels and tyres, including the ones on the car (also Yokohama 048′s) are in good condition with a fair bit of life left in the tyres. Small quantity of spares.
We originally bought this car (for the first time) in 2006 and during our first period of ownership used it exclusively for trackdays, in 2009 we sold the car to a good friend for his son (a current VW Cup driver) to get his first taste of circuit racing in the Classic Sports Car Clubs's popular Tin Tops series, He campaigned the car successfully in both this race series and the MSVR Track Day Trophy during 2010/11 before moving up to a BMW M3 and then the VW Cup.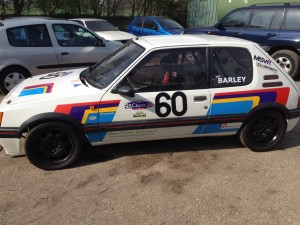 The car was then put into storage with the rest of the family's collection, we bought it back in the summer of 2013 with the intention of using it once again for track days and with the idea of offering it for arrive and drive in the Tin Tops or Track Day Trophy series where it would be an ideal car for someone just getting into circuit racing, as it's a competitive car but also one that can be 'learned' quite quickly and offers a stable platform to gain experience.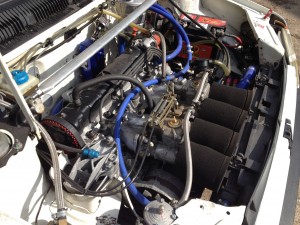 However due to our other commitments we have had no time to use it, after collecting it we literally unloaded it from the trailer and parked it in our store where it has sat ever since! Obviously this is a waste of a great little car so we have decided to part company with it once again! Currently not MOT'd or taxed although we do have the V5 for the car and when we owned it previously we did MOT it and did use it occasionally on the road where it was capable of surprising a few people! Whilst not immaculate (it is over 20 years old) it is a tidy and competitive car that was built at considerable expense and further developed by its owners over the past few years, it has always been professionally prepared and dry stored when not in use (rather than sitting on a trailer in someone's yard or driveway) and would make an ideal first race car, as it's suitable for several UK series. We would be happy to discuss storing, preparing & maintaining the car for the new owner if required. Contact us for more information or to arrange to view the car.

Posted September 19th, 2014